Flagstaff Region Featured Business: Purple Scissor Salon

(as published in the February 7 edition of The Community Press)
Purple Scissor Salon
5011 50th Street, Daysland
780-374-3623
Hours: Tuesday,
9 a.m. to 8 p.m.;
Wednesday to Friday,
9 a.m. to 5 p.m.
A wooden sign hanging prominently near the front entrance of Purple Scissor Salon reads: "I hope you feel beautiful today."
It's more than just a hopeful declaration.
For owner Carey Hauck, it's a business philosophy.
"Whether it's coming in and just saying hi and checking out what's going on in here and you have a great conversation, or you get to sit in the chair and you get your hair done or you get your eyelashes done, it's just something that you want everybody to feel good," she explains.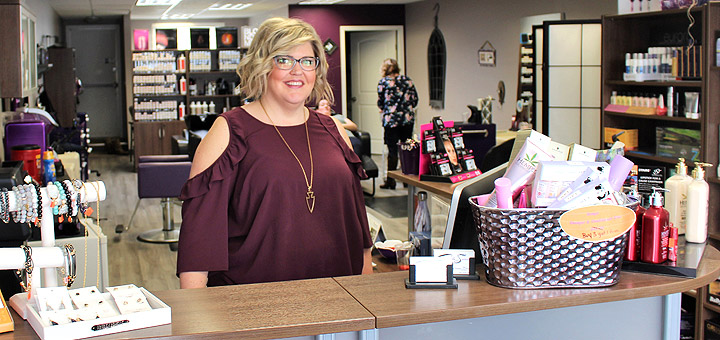 Adding an element of fun and frivolity to that feel-good ambiance is the décor, which is decidedly purple.
That includes a purple coffee maker, purple hair dryer, purple product containers wherever possible, a purple clock, and purple chairs. "When you walk in the door, you see a fun atmosphere," Hauck explains.
"For a small town, I think we offer lots of products and knowledge. We're always learning new things and trying to keep up with the newest techniques."
Nestled on Main Street in Daysland, Purple Scissor Salon offers facial waxing, eyelash extensions, ear/nose piercings for all ages, and a full line of makeup, in addition to the traditional hairstyling services for women and men.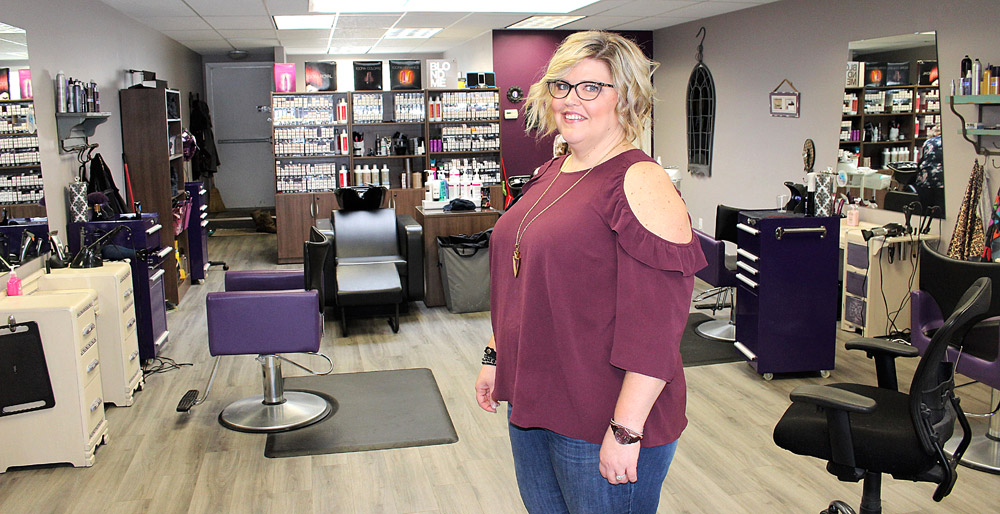 At the end of this month, Hauck will mark three years as owner of the salon.
The native of Strome has been a hairdresser for about 15 years, getting her start in Camrose before eventually working in Killam.
Hauck admits she had long dreamed of owning her own salon.
"It was something that you always think about doing," she explains. "As a hairdresser, it's something that you strive to work towards. I got to a point in my life where I wanted to do it for myself. I didn't want to do it for somebody else anymore."
That dream quickly morphed into reality three years ago.
"I HOPE YOU FEEL BEAUTIFUL TODAY"
"I was talking to my good friend Mandy at the flower shop at Rusty Daisy and she told me about this building potentially being for sale, so I phoned up the owner and said, 'Hey, I'm looking at buying a building,' and he said, 'Well, it's for sale if you want to buy it.'
"So it all happened in a hurry. I called him. He called me back. We came and looked at it. It was like within a month it was happening."
The name Purple Scissor, meanwhile, was born out of a brainstorming session with her fiancé and nephew.
"We were sitting around the table one day and we just started throwing some names around," she adds. "Daysland is known for their purple crocus, so I wanted to incorporate that somehow.…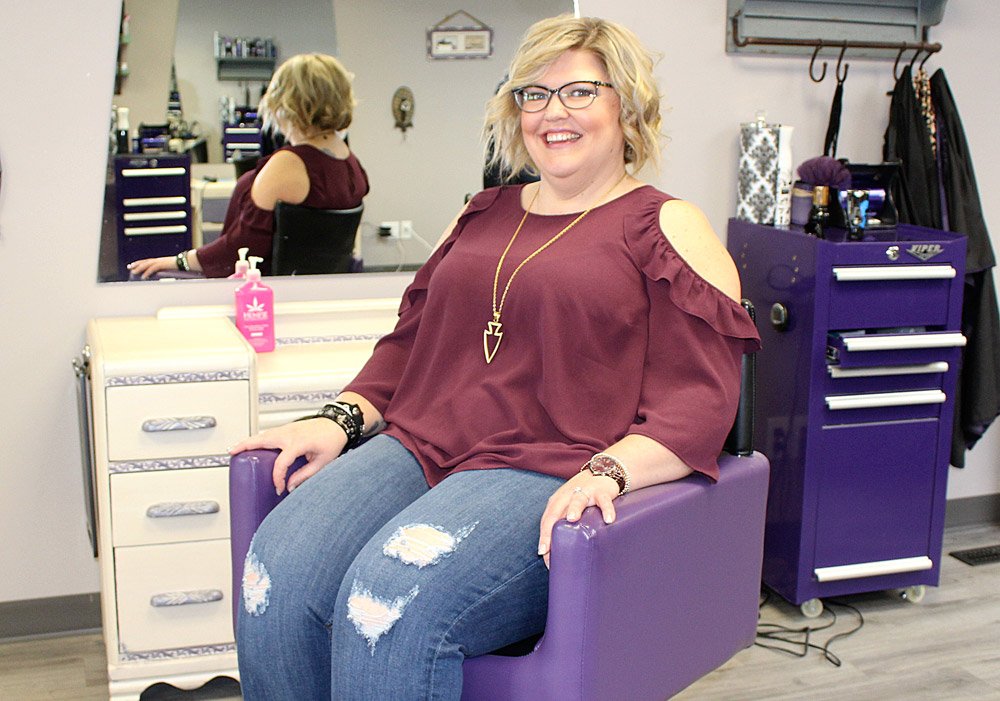 "Purple's my colour, so that was easy. They started throwing words at me – clippers, and I don't know, all different hairdresser words – and scissor stuck."
Hauck employs one part-time hairstylist. Each year she also takes on a high school student looking for work experience.
This month, she is offering 10 per cent off makeup products, as well as 10 per cent off gift baskets – just in time for Valentine's Day!
For budding entrepreneurs, she offers the following sage advice, "Have some goals, have some dreams, have some fun!"
For more information, look for Purple Scissor on Facebook or call 780-374-3623.
As published in the February 7 edition of The Community Press – on newsstands today. Never miss an issue, become a SUBSCRIBER today!
The Flagstaff Region Featured Business is a monthly newspaper and web feature presented in partnership by Flagstaff County and The Community Press.  For more information, contact Jenalee Blackhurst, Economic Development Coordinator, at 780-384-4152. Looking to market your business? Look no further than the area's #1 Medium since 1908. Phone 780-385-6693 or Email ads@thecommunitypress.com today.