Mock drills in Sedgewick could save lives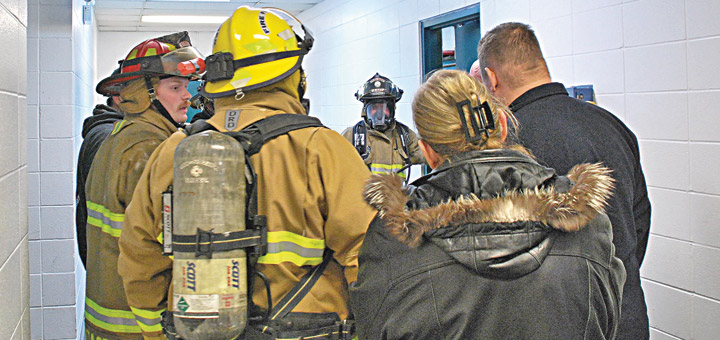 After the tragic deaths of three arena workers in Fernie near the end of 2017 due to an ammonia leak from an ice-making plant, Alberta Occupational Health and Safety told (OH&S) Sedgewick Rec Director Marta Hampshire that emergency planning is extremely important.
The Rec Centre passed a recent OH&S inspection except for one item, development of an emergency response plan along with staff training of the plan.
To that end, Hampshire has reworked the plan, and on Friday, Jan. 19 invited the Sedgewick Fire Department to do fire extinguisher training, and held a mock fire drill.
Fire personnel also toured the ice plant room, and discussed with staff what would happen in the case of a leak.
The building does have an alarm, in fact two different alarm sounds in case of fire and in case of an ammonia leak.
Hampshire says this and a few minor procedure changes were all that was necessary to bring the facility into OH&S compliance.
One of the new procedures she has implemented is a sign-in system for all staff, to ensure that in the case of an emergency, she, and emergency responders, would be aware of everyone in the building.
Read the full story in the latest edition of The Community Press – on newsstands now!  
Print is still the most effective medium. Attract LOCAL customers by supporting LOCAL media. ADVERTISE!
Leslie Cholowsky
Editor