Flagstaff Region Featured Business: Strength & Motivation Fitness

(as published in the January 10 edition of The Community Press)
Strength & Motivation Fitness

5175 51st Ave., Killam
780-385-2111
Open 24 hours
Killam resident Tammy Beaudry has risen to a different type of challenge in the gym.
The married mother of three was hired at S & M Fitness in Killam in the spring of 2016 as a part-time child care attendant. But that was child's play.
Within a month, she was promoted to gym manager. But that was no sweat.
Less than 15 months after that, Tammy – along with husband Eric – started flexing their business sense as owners of S & M Fitness.
"My husband and I, we had been approached by the previous owner just as idle chatter to maybe possibly buy the gym from her," Tammy explains.
"She put the idea in our head. It was just at a (2016) Christmas party. She's like, 'Ha ha, you should buy the gym.' I don't think it was too serious, but then my husband and I started thinking maybe that could be a real good possibility for us."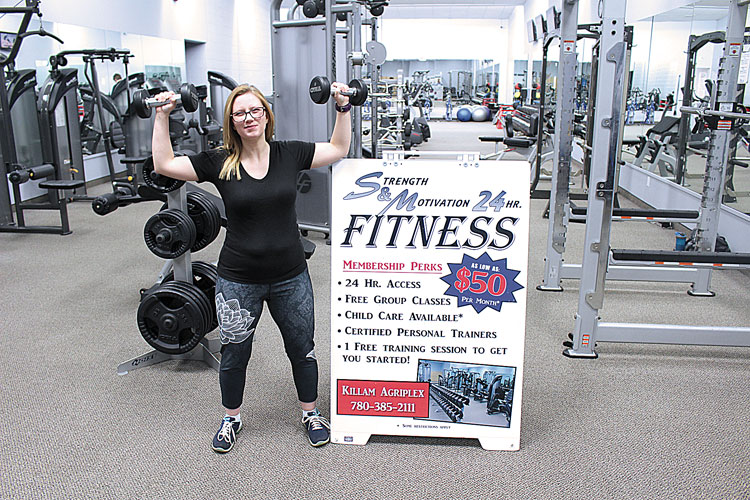 Tammy, who also leads two weekly boot camp classes at the gym, admits that Eric was initially more gung-ho about the prospect of ownership. But the more she thought about it, the more she warmed to the idea.
"Honestly, owning a business is very intimidating because you don't know how it's going to go," she says, noting it is a "huge investment."
Fortunately, the knowns outweighed the unknowns.
For starters, S & M Fitness was already established as the best-equipped gym in the Flagstaff Region.
Plus, Tammy, who greets patrons during the day from behind the reception desk, was self-admittedly already the "face of the gym."
And so, Tammy and Eric soon decided to take the leap into business ownership.
"It took awhile to get all our ducks in a row," Tammy says. "Come mid-August (2017), the gym was ours, which was really exciting. Everything's been going really smooth and really great since."
In addition to her continuing managerial duties, Tammy leads boot camp classes on Monday and Wednesday mornings.
"It's really neat to see the impact I can have on other people and their fitness goals," she adds.
To encourage more people to whip themselves into shape in 2018, S & M Fitness is waiving the initiation fee this month on all one-year memberships.
Meanwhile, Tammy and S & M Fitness trainer Kate Carrigan will be running the Resolutions 8 Week Body Challenge starting January 16.
"It will be judged on whoever has lost the most inches and weight," Tammy says. "We'll do the percentage, so that way it's a little more fair."
And if that's not enough, this month Tammy is also offering a discount on the drop-in fee for non-members.
As published in the January 10 edition of The Community Press – on newsstands today. Never miss an issue, become a SUBSCRIBER today!
The Flagstaff Region Featured Business is a monthly newspaper and web feature presented in partnership by Flagstaff County and The Community Press.  For more information, contact Jenalee Blackhurst, Economic Development Coordinator, at 780-384-4152. Looking to market your business? Look no further than the area's #1 Medium since 1908. Phone 780-385-6693 or Email ads@thecommunitypress.com today.