Sedgewick woman helps promote World NET Cancer Day
On Nov. 10 patrons of The Wooden Spoon in Sedgewick were served coffee out of specially marked cups in honour of World NET Cancer Day.
The woman behind the promotion is Elaine DeBock of Sedgewick, who was diagnosed with this rare form of cancer in 2013.
DeBock estimates she started feeling the symptoms of the disease about eight to 10 years before her diagnosis, and found out what was causing her symptoms in China, of all places.
"We went to China for about five months in 2013, and we had to get a medical to get our travel visas. When we landed in China, they required another medical, but theirs included an abdominal ultrasound.
"They saw some spots on my liver, but they just told me that when I returned home, I should see my family doctor, so I assumed that it wasn't serious."
Elaine was travelling with husband Richard. Both are retired teachers, and have travelled extensively since their retirements in 2007.
Despite frequent stomach pains, DeBock put it down to nothing serious, and although she was treated for an inflammation of the stomach lining, nothing much seemed to help.
When the couple returned from China, she visited her local doctor, and he sent her for a CT scan.
The results showed that the spot was cancer, and it had spread, with three tumours on her liver, one on a lymph node, and another in her colon. When a tumour was biopsied, only then did she find out that she had NeuroEndocrine Tumours, or NETs.
Common symptoms of NETs cancer include diarrhea, abdominal cramps, wheezing, pounding of the heart, and a skin rash. The average time to diagnose this type of cancer is five to seven years, in fact by the time most patients are diagnosed, the cancer has metastisized and is at stage four.
DeBock learned that if caught in early stages, say a routine colonoscopy, removal of a single tumour is considered a cure.
"In later stages, they can't be removed, but are generally very slow growing tumours. There is no cure."
The good news for DeBock is that her tumours are not growing at present, in fact they have shrunk, and some have disappeared altogether, she's down to three tumours, as far as she knows.
DeBock is presently on a clinical trial at the Nuclear Medicine Department at the Cross Cancer Institute in Edmonton.
She says that there are only three hospitals across the country participating in the trial, with Edmonton taking care of everyone east of Ottawa.
"NeuroEndocrine cancer is rare, but it's one of the fasting growing cancers world wide. Is it increasing? Or are better diagnoses being made? It's hard to be sure."
Elaine has had no surgery during her treatment, but taking part in the trial means she goes to Edmonton every six months for an injection of Lutetium, which is a drug called Octreotide with a radioactive isotope, by intravenous.
Besides the six-month treatment, DeBock also has an injection of Octreotide Sandostatin every 28 days to manage her cancer.
When first diagnosed with NETS, in 2013, DeBock underwent four big treatments 10-12 weeks apart. "They made me feel very tired and worn down."
The good news is that her symptoms have disappeared. The tumours were producing serotonin, a chemical naturally produced by the body, in great quantities that causes stomach and intestinal pain and discomfort.
DeBock says the Lutetium she receives in Edmonton every six months leaves her tired for a few days afterwards, "Not unwell, just tired."
Also, due to the radioactive isotope added to the drug, she's radioactive for the first week after each hospital treatment. She must sleep in a separate bedroom, use a separate bathroom, and limit exposure to others.
DeBock taught school in Lougheed for 18 years, retiring just one year before the school closed, and says, "This would have been difficult to deal with if I was still teaching."
She says the cost of her medication might have been crippling had it not been for her benefits. At $2,300 per injection of O. Sandostatin every 28 days, she feels lucky that her plan covered 100 per cent.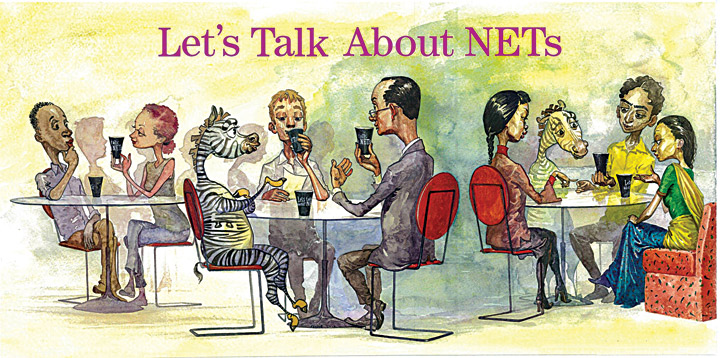 Recently she had to change to a different benefit plan, for retired educators, and found out the new plan does not cover as much, however received some good news that the cost of the drug will be covered under Alberta Health. "I don't know why I would have to pay for it, other cancer treatments are fully covered."
DeBock says the staff at the Cross Cancer Institute are outstanding. "They treat you as a patient, a person, not as a disease."
One thing she particularly likes is that she has to complete a comprehensive questionnaire each time she goes for her treatment. It delves into all aspects of how the disease and the treatments are affecting her life.
"When I was first diagnosed, doctors said the very worst thing I could do was to go home and google NETS. They did have a few trusted websites they recommended, and one of those was CNETS Canada, the Carcinoid-NeuroEndocrine Tumour Society Canada."
Through CNETS, she learned more about NETS, and not just the support they provide to patients through the society, but also the support given to research.
She has also attended patient information sessions, and has found them helpful and informative.
Her goals for asking The Wooden Spoon to distribute the cups on Friday include awareness of the disease, to promote more funding for research and treatment, and better support. "Also for better treatment options for people worldwide."
DeBock says she knows it's an unusual cancer. "When you're diagnosed, and treated, your cancer is still there, it doesn't go away. But the doctors don't tell you that you have 'x' amount of time left. It's a form of chronic cancer.
"Every six months, I could get good news, or bad news."
She says the initial trial was for 12 treatments per patient. She's currently on her ninth treatment. "They tell us, often, they didn't expect us to still be here." The Institute is currently getting permission to continue the special treatments after the 12.
She says that doctors don't know what the long-term effects of the radiation will be.
Her monthly injections are done at her home by a nurse sent by the company who manufactures the drug. The injection requires mixing and precise timing.
Living a life around 28-day injections has definitely curtailed travelling. DeBock says she can arrange for the injection in other provinces, but has not yet tried to do that out-of-country.
The big treatments, every six months, take away a week afterwards, due to the radioactivity, and require her to have a blood test in six weeks afterwards.
Chronic cancer is a good way to describe it. "It's hard to adjust to living life 28 days or six months at a time."
DeBock says, "I am not a worrier. I have a strong faith, and that helps me deal with it. Mentally, I have a lot of support through my church.
"People who know I have cancer expect the usual, you get better, or you die. Many people assume that I'm cured, or in remission. That's not the case.
"Being in a small town, people know what I'm going through, and people care. Without that, I imagine it could be very lonely."
After every six-month treatment in Edmonton, DeBock has to return the next day for a scan, and says the nice thing about that is immediately getting to review the scan with her doctor. In fact, those scans helped her catch another, unrelated cancer that has been treated and cured.
"It's been good news, great news, so far, but every time I go, I don't know exactly what I will hear."
DeBock started a blog in 2008 when she and her husband travelled to Japan to teach English. "It was a way to share experiences and keep in touch."
Now she uses the blog in a different way. She loves to write, it's always been a passion of hers, and to keep herself disciplined, she started a "Fashion Friday" piece on her blog, to keep her steady.
Her cancer has been the topic of some of her blogs, but DeBock says, "My cancer doesn't define my blog, because it doesn't define me."
Her hope is that NETS will become a little better known, and that more people will consider financial support for its research and treatment.
She also hopes that by educating people about NETS, she's helping to increase the potential for recognition of symptoms and early diagnosis. "As one of the fastest growing class of cancer, we need more information, and more answers."
DeBock recommends a visit to the CNETS visit for more information, at cnetscanada.org.
Leslie Cholowsky
Editor