New RCMP member looking forward to making a difference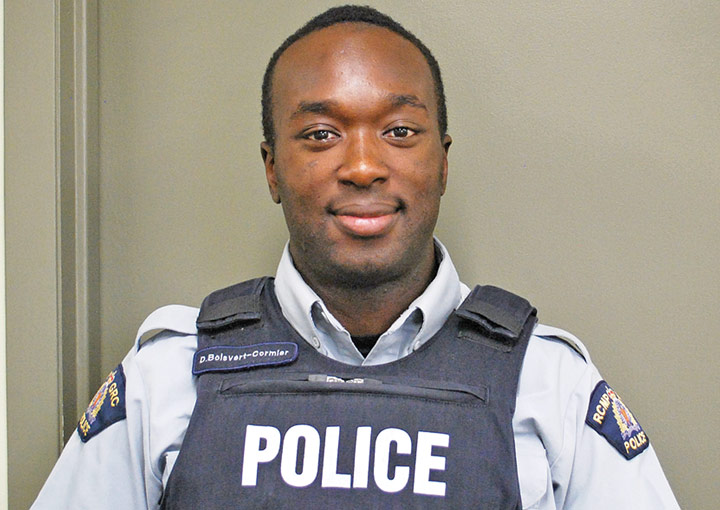 If you attended the Lougheed Fair parade, on Aug. 12, you were one of the first people to meet the Killam Detachment's newest Constable, Cst. David Boisvert-Cormier, whose first official act was to lead the parade with the Legion Colour Party.
Cst. David, or Cst. David BC as he is called at the Detachment, just recently graduated from Depot, the RCMP's official training centre in Regina.
He grew up in Trois-Rivieres, Que. with his adopted family, and was born in Haiti.
Boisvert-Cormier says his family adopted a girl the same age as him, too, and the pair of them were raised virtually as twins, with two older siblings in the family.
He says that he had two dreams growing up, to learn to speak English, and to become a police officer.
When the RCMP made a presentation at his high school, David says he was hooked.
While his sister is an officer in the Montreal Police Force, he says he feels like the RCMP offers more opportunities; for travel, and for further training.
He was so eager, he applied to the RCMP right out of High School, and was declined. "They were looking for people with more experience," he said.
So he went to college, two colleges, in Ottawa and Gatineau, studying Police Technology and Police Foundation.
He ended up applying to the RCMP five times in all, and in the meantime was also accepted at law school.
But when he was accepted at RCMP, he didn't have a hard decision to make, he said yes and started his training.
"We have a young team, and they are very pro-active. We all want to do good things."
He says being here, doing the job he's wanted for so long is like beginning a new adventure.
"I'm looking to make a difference in the community. I know it can be a challenge, but I'm looking forward to it."
Read the full story in the latest edition of The Community Press. 
Print is still the most effective medium. Attract LOCAL customers by supporting LOCAL media. ADVERTISE!
Leslie Cholowsky
Editor