Battle River Rams ready for the start of a new football season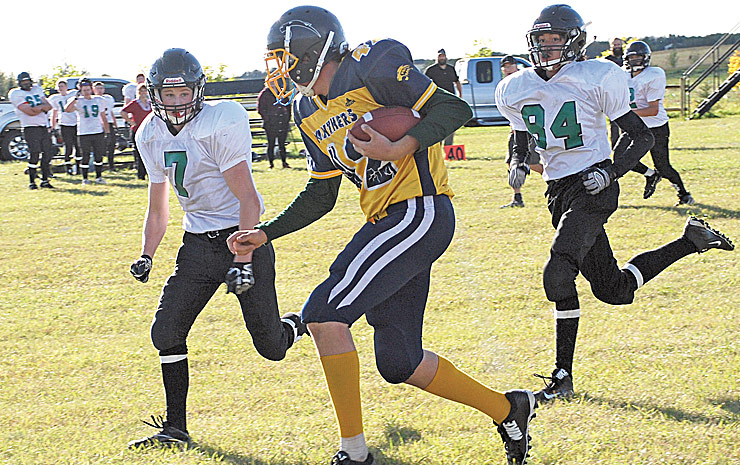 The Battle River Football Association, under new coaches Darek and Dave Graff, ended the 2016 season with five wins and three losses, ending up in fourth place in their division, one of their best years. Coach Darek Graff is looking forward to the new season, and hopes that he will see some new faces on the field this year.
Also last year, Rams player #7, Jonathan Gartner, played in the North/South 6-man Football All Star Game. Graff says, "He attended the tryout in April, and made the team. The All Star game was played during the May long weekend at Lacombe College. "It's a nice facility, and a beautiful field," Graff says. Both Rams coaches were also asked to coach the All Star South team, but only Darek was able to, coaching the South team to victory.
Rams alumni Vaughn Rawluk has moved from 6-man to the Western Canada Football League, playing with the Edmonton Wildcats. "Vaughn attended their camps, got on their radar, and made the team," Graff says. "Six-man football is a good lead-in, and Vaughn is dedicated. He works for it. Now he will get better coaching, and training advice, and all 'round support."
Graff says last year the team graduated four players, including Rawluk, and says, "We need players. Having 16 would be ideal, but I don't know how many people know about us."
While the team is called the "Sedgewick" Rams in the league, the Battle River Football Association pulls players from throughout Flagstaff, and from the Hughenden and Viking area."
The Graffs are planning a week long evening camp at the end of August to get the players in shape, moving to twice-a-week practices after that, to prepare for the 2017 six-man season.
Graff says that he feels having a football program in Flagstaff is important. "It brings us diversity. Not everyone plays hockey, or volleyball."
Football fees are fairly modest, about $200, and he says, "Players still have most evenings free. They could do both hockey and football, if they wanted."
Graff says that potential players don't need to have formal football experience. "We prefer none, then we have no bad habits to unlearn, and we'll teach them what they need to know."
He says, "Dave and I both played football at a higher level, and we've both coached. It's a nice fit, to be with the Rams."
For him, it's a personal exchange. "I had a coach who told me, 'For every year you play, you owe the sport another year in coaching.'" It's also not just coaching, he's also volunteered to drive the bus.
Parents also play an important role with the Association, he says, and he's grateful for all the support the coaches are given during the season. "We receive no funding from the schools, but do hold fundraisers during the season."
Graff says he expects most of last year's players to return. "We've got great player turnover, with lots coming back."
The Rams will play their first home game at the Sedgewick Field, which is located behind the ball diamonds, to the south, just west of the rodeo grounds, on Sept. 21, when they will face Caroline.
Graff says he's hoping to see some bodies in the stands. "It's a great game to watch, with a lot of action."
He would also like to see more bodies on the field, and hopes that anyone who is interested will come out and give it a try.
Originally published in the August 8 edition of The Community Press. Never miss an issue! Become a SUBSCRIBER today! CLICK HERE
Leslie Cholowsky
Editor