LOTS TO DO including 2 LUNCH events TODAY, plus Employment, Sales & Much More! Read the WEB CLASSIFIEDS NOW!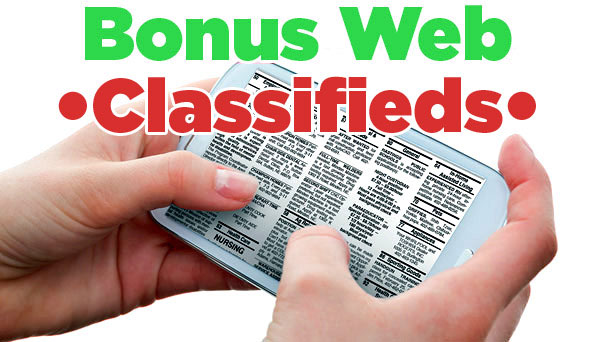 ANNOUNCEMENTS
Summertime Water Special
at Killam Plumbing & Heating
June, July, August
Three Dollar Thursdays
$3 / 5 gallon refills.
We deliver to your home or business! (extra charge)
Call today, 780-385-3562
---
The Killam Community Calendar is the major fundraiser for the Killam Public Library. We want to make the calendar bigger and better than it has been in the past few years, but we need YOUR help to do this. YOU can help by purchasing a calendar for only $12 and your family's birthdates, anniversaries, or memorials will be added to the calendar. Please contact Barb at the library at 780-385-3032 to order yours or by email at killamlibrary@prl.ab.ca
---
Bi-West Translines
Casino Fun Bus!
May 30 – June 1
Prince Albert, Saskatchewan
Pick-ups Along Highway 13 – and Wainwright
Call 780-672-2843 or
1-888-672-9550
---
Strength & Motivation 24 Hr. Fitness
Open in Killam. No initiation fee for ALL OF MAY!
Join Now and SAVE $150!
Childcare available Monday, Wednesday, Friday.
Located at the Killam Agriplex.
Call 780-385-2111 or find us on Facebook!
---
COMING EVENTS
Chili Lunch
Friday, May 27
11 a.m. – 2 p.m.
at the Campbell McLennan Dealership
in Killam, AB.
$5 – Chili, Bun, and a Drink!
All Proceeds to go towards the Red Cross Fort McMurray Relief Fund.
Everyone Welcome!
780-385-2121
---
Our ATB Agency is now automated
at Sedgewick Land & Insurance
Come celebrate on Main Street Sedgewick!
Friday, May 27
11 am to 1:30 pm.
Burger, Salad, Pop, Mini Cupcake – $5
All proceeds donated to the Sedgewick
Walking Trail
---
Flagstaff 4-H District Beef Show & Sale
Sunday & Monday, June 5 & 6
Killam Arena
Hosted by Iron Creek 4-H Beef club.
Everyone welcome!
---
Battle River Minor Hockey Association
Annual General Meeting
Tuesday, May 31
Killam Agriplex Multi-Purpose Room
7 pm.
---
Meadowland Ag Chem Ltd.
Construction is complete, our new full service wear house
is in operation, let the celebration begin!
GRAND OPENING CELEBRATION
at our new ALLIANCE FACILITY
Wednesday, June 1 at 6 pm.
Supper social to follow (rain or shine)
Chemical and Seed Reps in attendance.
Lots of Prizes!
Hwy 602 East, Alliance, AB
780-879-2267
---
F.I.R.S.T.
(Flagstaff's Initiative to Relationship and Spousal Trauma)
Annual General Meeting
Monday, June 6 at 6 pm
at FFCS Board Room, 4809 – 49th Ave. Killam
Please RSVP as a light supper will be served.
780-385-3976. Come and find out more about
this great organization!
---
Wild Rose Co-op
Dividend Cheques now available
at your local Wild Rose Co-op Location!
Over $2 million total cash
paid out to members in 2015!
---
Coutts Home Hardware
Warehouse Garage Sale
Saturday, May 28
at 4911 – 50 st., Forestburg
All sales from our Garage Sale will be Donated to the Red Cross for Fort McMurray!
Tons of Items to choose from!
IN-STORE SPECIALS!
All Summer Clearance Items 50% off Sale Price!
Don't Forget the Firemen's Breakfast also on Saturday, 8 – 11 a.m.
Your HOME for Great Deals!
Call us toll free 1-866-582-3556
---
Attention Men over Forty:
The Man Van is rolling into Hardisty
Sunday, May 29
Hardisty Community Hall
10 am to 1 pm.
Get your free baseline PSA blood test.
No appointment necessary!
---
ATTENTION SENIORS!
Flagstaff Active Living Conference
Celebrating Seniors Week
Wednesday, June 8 at Providence Place
in Daysland. 9:30 am to 3 pm.
Kathy MacDonald & Country Comedian
Ol' Ugly will be on hand, plus much more!
Open to everyone over 55.
Includes FREE Breakfast & Lunch!
Call Kayla at 780-384-4133 or email
kkippen@flagstaff.ab.ca to register.
FIRST 50 PEOPLE TO REGISTER RECEIVE
A FREE GIFT!
---
---
Unreserved Industrial Auction
Friday, June 10 at 9 am.
Daysland Backhoe & Trucking
South side of Hwy 13 at Daysland
For more info contact Ted Badry 780-679-6614.
Doug Johnson Auction Services
Phone 780-672-1105
Email djas@xplornet.com
www.dougjohnsonauctionservice.com
---
BBQ in recognition of
Victims of Crime Awareness Week
May 29 to June 4
Flagstaff Victim Services is hosting 2 BBQs:
Wednesday, June 1
11 am to 1 pm
at Daysland Fire Hall
-and-
Thursday, June 2
11 am to 1 pm
Alliance Fire Hall
$5 per person
---
Bethania Lutheran Church will hold its final service before its doors close and the congregation dissolves on Sunday, May 29 at a special service time of 2 p.m. Fellowship to follow in the Church basement with cake and coffee. Everyone welcome to attend
---
Visit Screen Test in
Hardisty June 3 & 4
Killam June 6 to 8.
Call for an appointment 1-800-667-0604.
Women aged 50 to 74 should plan to have a screening mammogram every 2 years, and can self-refer. Women 40-49 may be screened annually with a referral for their first mammogram
---
The Sedgewick Legion is hosting their annual Steak and Burger Barbeque
on Tuesday, June 7 at the Hut.
Cocktails at 6 p.m. Supper at 7 p.m. Tickets $20 –
Advance Sales Only by June 2.
For tickets and Information, call Debbie Swainson at 780-384-2255.
Please Support your Local Legion!
---
Moving Away Sale!
John/Koreen Golka invite you to their Garage Sale,
starting 9 a.m. on Saturday, June 11 at Hardisty Airport Road Acreage (10146 TWP 425 B).
Items include over 50 years of collectables, paintings, many household/RV items,
hunting/fishing, shop tools, all yard equipment, grinders, skill saws, etc.
---
Hardisty Town Wide Garage Sale
Saturday, June 11
St. Paul's United Church is providing a Pancake Breakfast
at the Elk's Hall
Adults – $8
Children 6-12 – $5
Under 5 – FREE
There will also be a garage sale table
Call Ricci Matthews 780-888-2490 if you have good items to donate, especially Jewellery
---
Lougheed Market
Tuesday, June 7
from 10 a.m. to 2 p.m.
at the Lougheed Field House (arena).
Home-made lunch and bouncy house.
To book a table call Lisa 780-386-2472
---
Killam Public Library Senior's Tea,
Monday, June 6
1 – 2:30 pm
at the Killam Public Library.
Please join us to honour our seniors during Senior's Week in Canada.
Draw for a door prize. Everyone is welcome!
---
Daysland Cemetery Clean-up
Wednesday, June 1
at 1 p.m.
---
Join us for a Working Well Workshop
Tuesday, May 31
at the Alliance Community Hall
Hosted by Flagstaff County & County of Paintearth
5:30 p.m. – Supper
6 p.m. – Presentation
Contact Kelsey Fenton at 780-384-4118 or email kfenton@flagstaff.ab.ca
---
Bethania Church Auction
Saturday, June 4
5017 – 50th Ave, Sedgewick, AB
Doors Open at Noon (12 p.m.)
Silent Auction Format, Bids Close at 2 p.m.
Highest Bid Accepted and items MUST be removed by 4 p.m.
Items will include Pianos, Organ, Solid Wood Pews, Furniture, Kitchen Wares, and All Remaining Items.
Cash Sales Only. Payment Due at Time of Purchase
---
COWBOY CHURCH at Viking Auction Market,
Jct. of Hwy 26 and 36,
Friday, May 27, 7:30 p.m.
All Welcome. Call Terry at 780-376-3599 or 780-336-2224
---
---
Forestburg Town-Wide
Garage Sales
and
Fireman's Breakfast
Saturday, May 28
Garage sale maps
available around town and on Facebook
---
Eleanor Collier is "95" Years "Young"
Her children, Art and Dianna, are hosting a Come and Go Tea in her honour.
Please join us Saturday, May 28 from 2 – 4 p.m.
at the Sedgewick Seniors Centre on Main Street.
Happy Birthday and Cake Cutting at 2:15.
Hope to see you there! No Gifts Please!
---
Upcoming Events this
week at Nights Alive
Youth Centre
in KILLAM:
•Fri. May 27 – Bowling at Sedgewick Rec Centre at 4 p.m.! Meet Nate there!
•Sat. May 28 – Paintball Trip! Cost $50. Need Consent Form!
•Tues. May 31 – Board Game Night!
For more info, phone
780-385-4148
or visit
flagstaffnightsalive.com
---
FOR RENT
2 bedroom and 1 bedroom. Clean, comfortable, non-smoking
apartments in Killam. Call Chuck at 780-458-3771
---
Tanton Inn and Suites
Rental Duplexes in Sedgewick
•2 Bedroom Suite $1,300/Month
•3 Bedroom Suite $1,500/Month
Fully furnished, utilities, internet and TV included. For more details, call/text 1-780-385-2090
or send an email to
tantoninnandsuites@gmail.com
---
LIVESTOCK FOR SALE
Short horned bulls for sale. Polled, semen tested, optimal birth weights, delivery available. Call Shepalta Farm at 780-679-4719
---
MEMORIAL
In Loving Memory of Thelma Derraugh
May 21, 1999
We thought of you with love today, but that was nothing new.
We thought of you yesterday, and days before that, too.
We think of you in silence, we often speak your name.
All we have are memories, and pictures in a frame.
Always remembered and sadly missed by Hugh and family.
---
HELP WANTED
Brandywine and Brew Liquor Store in Sedgewick is seeking a Part Time Employee. Apply within or phone Jan at 780-384-2422
---
---
Lougheed Playschool is looking for a TEACHER FOR 2016/2017
Lougheed Childhood Services Society is currently seeking a dynamic, and energetic teacher. This position includes a combination of planning, teaching, classroom management and classroom support, where the teacher's job will be to implement creative and developmentally appropriate programming. Must be comfortable with singing, dancing, reading children's stories as well as teaching a fun and well thought-out preschool lesson. LCSS has many resources to help plan and incorporate lessons.
Qualifications:
•Child Development Worker Certification (Level 2 or 3) or Diploma in Early Childhood Education, or Elementary Education Degree or equivalent (see www.albertacanada.com/Early Childhood Educator for more info)
•A current criminal check which includes vulnerable sector check
•A current child welfare check
•Current First Aid (or willing to obtain)
The ideal candidate will:
•be willing to work with a parent run board
•be well organized
•have great communication skills with children and parents
•use a variety of teaching methods to develop lesson plans to include but not limited to centres
•be willing to work with children from diverse backgrounds
•have experience working with preschoolers but not necessary
Wages are negotiable and will be based on education and experience. Only successful applicants will be contacted for an interview. Projected first class will begin September 2016
*Please submit resume and cover letter with 2 references no later than June 3, 2016 to:
Box 311
Lougheed, AB T0B 2V0
chels.riley88@gmail.com
for more information please contact Chelsey via email or phone at 780-386-0006
---
Prairie Central FASD Association
is looking to hire a temporary 1.0 FTE
EXECUTIVE DIRECTOR
For more information, see the ad in the May 24 edition
of The Community Press
Please submit resume and cover letter no later than June 17 to:
Stacy Graff, Executive Director
Box 450, 4809 – 49 Ave.
Killam, AB T0B 2L0
s.graff@prairiecentralfasd.ca
Fax: 780-385-3667.
Only selected candidates will be contacted for an interview.
---
REAL ESTATE
Country Acreage – NW of Lougheed or NE of Sedgewick. Build your dream home! 43 acres, all services, fenced, 40×90 shed. Call 780-385-0256.
---
SERVICES
Joanie Johnson, Realtor
Coldwell Banker Battle River Realty
Buying? Selling? Contact me for your realty needs!
C. 780-385-1889 O. 780-672-7761
joanie-johnson@coldwellbanker.ca
---
Straight Line Fencing Custom Fencing
All types. We also remove old fencing, clearing of bush. Also selling liquid feed. Mark Laskosky 780-990-7659
---
Pinoy's Cleaning and Janitorial Services
Now open to serve you the best! For all your cleaning needs: Houses, offices, halls, shops, trailers, motorhomes, commercial complex, windows, establishments, and more! Satisfaction guaranteed! For more information, call 780-385-4154. Book your schedule now!
One time, regular, by contract, or sub-contract. Owned and managed by: Elizabeth F. Andersen
---
Straight Line Fencing Custom Fencing
All types. We also remove old fencing, clearing of bush. Also selling liquid feed. Mark Laskosky 780-990-7659
---
COYOTE CONTRACTING
Exterior painting and renos.
Any type of buildings
or structures.
Free quotes.
Tyler 780-888-7223
---
HANDYMAN JAMES
Sedgewick, AB.
780-384-3766
Call for all your drywall, painting, and flooring. Plus complete bathroom, kitchen, and
basement renos from start to finish decks and fencing. Call… no job too small
---
SIGNS – PRINTING
•Banners •Decals •Stickers • Chuck Tarps •Business Cards •Envelopes •Letterheads
•Business Forms
•Printing Of All Kinds
Flagstaff Printing
& Signs
P: 780-384-2389
F:780-384-3049
E: flagpr@persona.ca
---
Town & Country Guardian Drugs – Killam
"Celebrating 53 years"
We have: • a Kodak picture maker. • a colour/b&w photocopier. • cold pop and fresh snacks. • a great selection of candles, giftware, and fragrances. • toys, games, and plush animals. • a huge selection of Hallmark cards.
• plastic gift cards • vitamins, minerals, and herbals. • free gift wrapping. • prescription service 7 days a week
---
Carpet and upholstery cleaning – residential and commercial. Truck mount unit,
sewer back-up, and flood cleaning. Auto and RV cleaning.
Call Glenn and Cindi Poyser, Fancy Shine Auto and Carpet Care at 780-384-3087, Sedgewick
---
SAFETY STARTS HERE TRAINING CENTRE
•First Aid – CPR AED
(AB & BC)
•Standard First Aid
•Emergency First Aid
•Child Care First Aid
•HCP First Aid
•H2S Alive (Enform)
•Ground Disturbance (Global)
•Confined Space Entry
•CSTS •PST •TDG •WHMIS
•Flagger Training
Phone (780) 608-1434
www.safetystartshere.ca
---
Don't take your business or event for granted.
Now is not the time to disappear from public view and over-rely on word of mouth or random social media.
ADVERTISE.
It's an investment in yourself and your future. 
Advertising Deadline for the May 31 edition is Monday at NOON!