It's a bird… It's a plane… It's the latest Web Classifieds!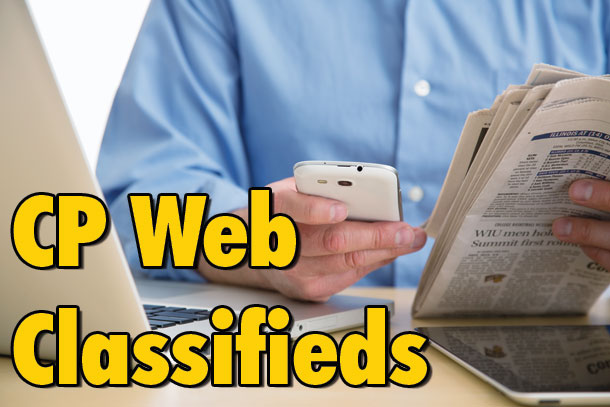 ANNOUNCEMENTS
Daysland Auto & Farm Supply
BUMPER TO BUMPER
Manager's Special:
FREE OIL CHANGE
With pre-purchase
of 2 future oil changes
get today's oil change FREE!
offer valid until May 30, 2015.
Customer Service is #1 in our books.
Call or stop in soon!
780-374-3786
————
Lougheed Playschool is now registering for 2015/2016. Classes run on
Wednesday from 9 a.m. – 2 p.m. Please contact Chelsey Butcher
780-386-0006 or chelsey@chelseybutcher.com to register or with any questions.
————
COMING EVENTS
Mark Your Calendars!
Parents for Fun in Flagstaff presents
Movie in the Park 2015
6th Annual End of Summer Celebration
Tuesday, August 25
BBQ begins at 5:30 p.m. followed by lots of
children's activities, 50/50, and our FREE movie "Home"
starting at sundown.
Join us in support of the Family Resource Centre.
Our Hosting Community Town of Killam – Heritage Park
————
Sedgewick Legion is hosting their annual Steak and Burger BBQ
on Tuesday, June 2 at the Hut. Cocktails 6 p.m. Supper 7 p.m.
Tickets $20 – Advance sales only by May 29.
Please contact Debbie 780-384-2255. See you there!
————
Daysland Town Wide Garage Sale
Friday, May 22 –
5 p.m. – 9 p.m.
Saturday, May 23 –
9 a.m. – 5 p.m.
Rain or shine. Lots of bargains to be found!
————
Forestburg Village Wide garage sales Saturday, May 30.
Maps available at various locations throughout the town.
————
Come help celebrate Ruth Erikssen's 90th Birthday
Saturday, May 23 1:30 – 4 p.m. at the Sedgewick Legion.
Come and go tea. Everyone welcome! No gifts please.
————
COWBOY CHURCH at Viking Auction Market, Jct. of
Hwy 26 and 36. Fri., May 29, 7:30 p.m.
All welcome. Call Terry at 780-376-3599 or 780-336-2224.
————
Worship Painting Demonstration
by Marlaina Eldey
during the Sunday worship service at Sedgewick Community
Church of the Nazarene Sunday, June 7, 10:30 a.m.
————
Acrylic Paint Class
"Tree with Swing"
by Marlaina Eldey
Sedgewick Community Church of the Nazarene
Saturday, June 6 at 1 p.m.
$25, all supplies included
To register, contact
Michelle Edey
mecedeme@gmail.com
780-384-2459
————
This year the Blacktop Bonanza returns to Main Street Killam on Saturday, June 20! Planned events include inflatable "rides" for all ages, bike safety fair, petting zoo, food court, outdoor beer gardens, show and shine, entertainment stage, plus a whole lot more! If you would like to be a part of the event please contact the following:
•Parade entries (the theme is the '60's): Sharon Moser 780-385-3003 or Tanya Piche 780-385-3006.
•Show and shine: Stacey Zaretski 780-385-2121
•Food Booths, entertainment stage, or street vendors: Dan 780-385-3014 or Deanna 780-385-4326.
Bring the entire family out for the day and let's make the 50th anniversary of the Blacktop Bonanza and the incorporation of Killam a special event for one and all.
————
Killam Tiny Tots Preschool registration meeting for the
2015-2016 school year will be held Tuesday, May 26 at 7 p.m. at the
Playschool (Basement of the Killam Baptist Church). Your child must be three years old and
fully potty trained. Please bring your child's Alberta Health Care number with you.
For more information, please contact Angela Rancier at 780-385-2425.
————
Upcoming Events this
week at Nights Alive
Youth Centre
in KILLAM:
• Wed., May 20 – Baking Chocolate Chip Cookies
•Fri., May 22 – Monkey Bread, 6 p.m.
• Sat., May 23 – Paintball Trip, 10 a.m. *Need Consent/Waiver Form
• Tues., May 26 – Tutoring for Teens,
6 – 7 p.m.
For more, phone 780-385-4148 or visit flagstaffnightsalive.com
————
Flagstaff Active Living Conference
Celebrating Seniors Week!
June 8 at Providence Place in Daysland
9:30 am to 3 pm
Please join us in welcoming
Global News reporter Carole Anne Devaney
and Author/Radio Host Phil Callaway.
Open to everyone over the age of 55. Includes breakfast and lunch at no charge.
Call Kayla at 780-384-4133 or kkippen@flagstaff.ab.ca to register
by May 30. First 50 people to register receive a complimentary gift.
————
Flagstaff Region Business Partnership
BREAKFAST
Featuring Guest Speaker Tom Droog
(founder of Spitz International Inc.)
Thursday, June 25, 8-10 am
Flagstaff County Office (12435 Twp Rd 442 – Sedgewick, AB)
Tickets $10. To purchase tickets, contact the
Economic Development Department at 780-384-4150.
Deadline to purchase is June 18.
————
Flagstaff Victim Services
Annual General Meeting
Tuesday, June 2 at 7 pm
at Fee & Sons Funeral Home in Killam
If you are interested in being a board member
or volunteer, please attend.
————
F.I.R.S.T.
(Flagstaff's Initiative to Relationship and Spousal Trauma)
Annual General Meeting
Monday, June 1
at FFCS Board Room, 4809 – 49 Ave. in Killam
Please RSVP as a light supper will be served
780-385-3976. Come out and find out more
about this important community initiative.
————
Flagstaff 4-H District Beef Show & Sale
Sunday, May 31
Monday, June 1
Killam Arena
Everyone welcome!
FOR RENT
Large, clean, quiet apartment with balcony in Killam. Available April 1. Call Chuck at 780-458-3771.
————
2 bedroom country home on acreage south of Killam. Includes 5 appliances.
Absolutely no pets. Non-smoking, responsible adults.
Available immediately. 780-386-3979.
————
Fully furnished house with 3 bedrooms, 2 bathrooms in Sedgewick with internet, utilities, and cable included. $600 – $700 per room/per month for non-smoking, responsible adults. Call 780-390-0201.
————
Large storage space for rent behind main street Killam. Formerly used by furniture store. $350/mo.
Please email eric@cariboupublishing.ca.
FOR SALE
It's Parade Season! Stop by The Community Press office in Sedgewick for pom poms! Call Karen 780-384-3641.
————
One 3 year old registered Red Angus bull. Easy calver, good for heifers or cows. Hardisty. 780-888-1098.
————
2006 F-150 FX4 Ext. cab, step side, short box, good condition, good rubber.
Phone 780-376-2114.
HELP WANTED
Apprentice or Journeyman Autobody Technician
O'Brien Collision Center, Sedgewick
780-384-3080
contact@obriencollisioncenter.ca
————
Killam Krossing Hotel in Killam
is seeking Full Time / Part Time
-Lounge Person(s)
-Server(s) for Smitty's Family Restaurant
-Kitchen Helper(s)
Competitive wages and subsidized meals.
Apply at front desk or fax resume
to 780-385-3124 or phone 780-385-2290.
Ask for Deena or Seb.
LIVESTOCK
Registered Black Angus yearling heifers, Semen tested Black Angus yearling bulls, and 1 two year old bull for sale.
Contact Roger Spady 780-879-3941.
MACHINERY
1993 R72 Gleaner Combine
•1,530 machine hours
•2,117 motor hours
•Deutz 300h motor
•12ft swath master pickup
•20 hour on Sunnybrook rotor
•Kirby chaff spreader
Phone for more info on recently installed various parts. Excellent shape.
$52,500 OBO. 306-372-4509.
————
1983 2390 Case tractor. 5,200 hours. New rubber,
new A/C, and new starter in last 200 hours.
Excellent shape. $18,000. Call 306-372-4509
MEMORIAL
Thelma Fern Derraugh
May 21, 1999
The depths of sorrow we cannot tell,
of the loss of one we loved so well,
and while she sleeps a peaceful sleep,
her memory we shall always keep.
Hugh Derraugh
and family.
PUBLIC NOTICE
NOW STOCKING: "CAT" DIECAST TOYS.
Excellent gifts. Great collector toys. Huge display – see them at Kal Tire – Sedgewick.
REAL ESTATE
House for sale in Killam
Large lot on quiet
crescent. Close to Heritage Park, hospital, and school. 3 bedrooms, 2 bathrooms. All
appliances included. Central Air Conditioning. Single car garage.
Call Andy for any inquiries 780-385-1637
http://www.kijiji.ca/v-house-for-sale/strathcona-county/house-for-sale-killam-ab/1068679781
————
8.5 Acres, 7 miles
southwest of Killam
3760 sq ft ranch
style home
6 bedroom, 4 bathroom,
2 fireplaces
New roof, flooring, bathrooms, countertops, tile, and appliances.
Barn, shed, serviced shop.
$549,000
comfree.com/459392
realtor.ca – E3404636
780-385-8686
SERVICES
Carpet and upholstery cleaning – residential and commercial. Truck mount unit, sewer back-up, and flood cleaning. Auto and RV cleaning. Call Glenn and Cindi Poyser, Fancy Shine Auto and Carpet Care at 780-384-3087, Sedgewick.
————
SAFETY STARTS HERE TRAINING CENTRE
•First Aid – CPR AED (AB & BC)
•Standard First Aid
•Emergency First Aid
•Child Care First Aid
•HCP First Aid
•H2S Alive (Enform)
•Ground Disturbance (Global)
•Confined Space Entry
•CSTS •PST •TDG •WHMIS
•Flagger Training
Phone 780-608-1434
www.safetystartshere.ca
————
Bill the Carpenter
Smaller jobs and projects, doors, drywall repairs, trim, painting. Apparently I like fixing old houses. Also consulting, I can tell you what to do, or work with you, if you listen.
Phone 780-385-3944
cell 780-385-4882.
————
SIGNS – PRINTING
•Banners •Decals •Stickers • Chuck Tarps •Business Cards •Envelopes •Letterheads
•Business Forms
•Printing Of All Kinds
Flagstaff Printing
& Signs
P: 780-384-2389
F:780-384-3049
E: flagpr@persona.ca
————
HANDYMAN JAMES
Sedgewick, AB.
780-384-3766
Call for all your drywall, painting, and flooring. Plus complete bathroom, kitchen, and basement renos from start to finish decks and fencing. Call… no job too small.
————
Town & Country Guardian Drugs – Killam
"Celebrating 53 years"
We have: • a Kodak
picture maker. • a colour/ b&w photocopier.
• cold pop and fresh snacks.
• a great selection of candles, giftware, and fragrances.
• toys, games, and plus animals.
• a huge selection of Hallmark cards. • plastic gift cards
• vitamins, minerals, and herbals.
• free gift wrapping. • prescription service 7 days a week.
Call or Come In Today!
TENDER FOR SALE
We invite tenders for the sale of a 14'x60' 1975 Glendale Mobile Home
TO BE MOVED
Comes with fridge and stove. The mobile home can be viewed by calling 780-384-3964 or
780-385-5813
Please send bids in sealed envelope marked
"Mobile Home Tender"
to PO Box 385
Sedgewick, AB T0B 4C0
Closing date for bidding is Saturday, May 30.
Don't waste your money on out-of-market radio, or newspapers that claim to be local, but just distribute to random regional post offices to boast "impressive" distribution numbers. The Community Press is local, historic, affordable, easy, and best of all – IT WORKS BEST!

 Book your ad today! Phone 780-385-6693 / 780-384-3641. Fax 780-385-3107. Email ads@thecommunitypress.com. Or stop by our Killam or Sedgewick office today (open 8:30 am to 5 pm)