Forestburg Flyers win Season home-opener 3-1 over Irma Aces
The Forestburg Flyers made the most of the huge hometown support in their season opener as they played to a 3-1 victory over the Irma Aces at the Forestburg arena Friday, Nov. 1.
A crowd of 350 fans came to watch the teams play hockey.
The Flyers joined the East Central Senior Hockey League this year, bringing senior hockey back to Forestburg.
Friday's fans saw the Flyers outshoot the Aces 42-33.
Irma opened the scoring early in the first period with a power-play goal by Kyle Parsons, assisted by Jesse Gulbraa.
The Flyers tied it up a few minutes later with a goal by Brandon Dergenstein, assisted by Blaine Strauss.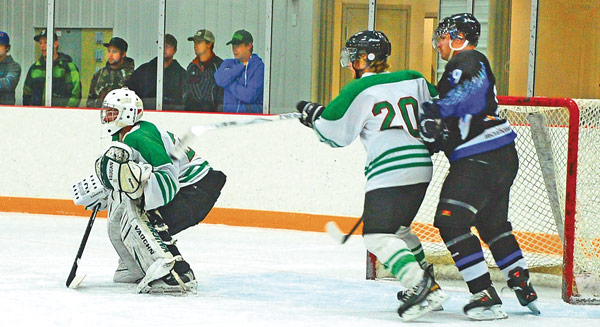 Brian Wegenast set up Nolan Shepherd midway through the second period when the Flyers took the lead 2-1.
Near the end of the second, Jody Heck capitalized on a turnover by an Irma defenseman to score unassisted, taking the Flyers to a 3-1 lead.
The Flyers sustained injuries toward the end of the second period, with goaltender Jeremy Klapak injuring his groin and Nick McNabb taking a puck to the face.
McNabb finished the game before receiving stitches for a cut lip at the hospital.
Bobby McNabb stepped in to tend the Flyer net in the third period, and came up big with a huge save on an Irma breakaway as he faced his first shot on goal for the Flyers.
He kept the 3-1 lead intact until the buzzer blew to end the third.
The Flyers' next game is Friday, Nov. 8 in Hanna and they play Coronation, Friday, Nov. 15 at the Forestburg Arena.
Jamie Geddes
Staff Reporter