Rams victorious in home opener against Edmonton's LY Cairns Colts
The Battle River Football Assoc. Rams overpowered the visiting LY Cairns Colts from Edmonton 39-20 on Friday night at home.

In their home-opener, the team had 21 players dressed, and scored their first touchdown before the five minute mark of the first quarter.
Two players were out with injuries in the first quarter, with Tyler Dietrich sidelined when he aggravated an old ankle injury, and Michael Mercer had a scare with a wrist injury, but coach Kevin Lefsrud confirmed Saturday that it was just a sprain.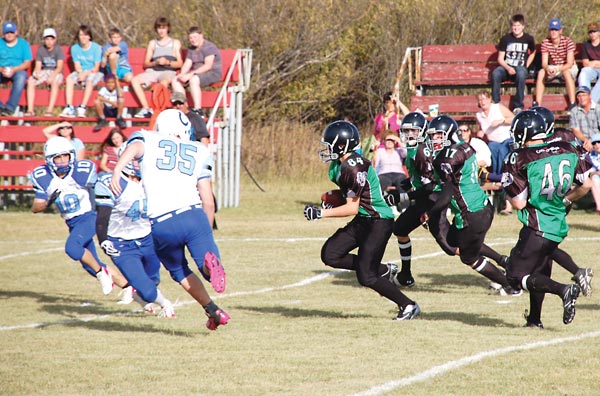 The team played in the Hunter South Division of the Alberta Six Man Football League last year, but is now in the Oilers North division, with the Breton Cougars and Buck Mountain Central Mustangs, who followed the Rams from Hunter South, and three teams from Edmonton, the East Glen Blue Devils, Millwoods Christian Royals, and the LY Cairns Colts.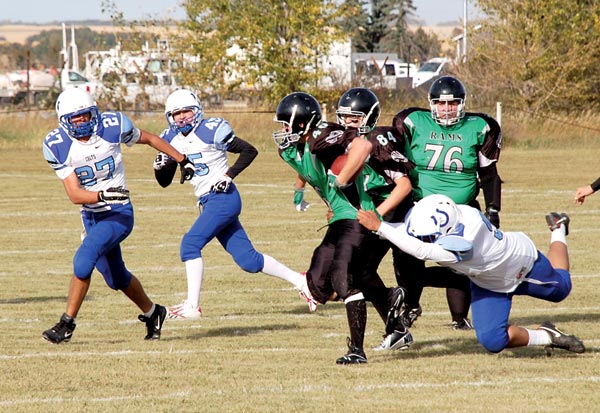 In other games Friday, Breton lost 43-71 to East Glen; and the Millwoods Christian Royals dropped the Buck Mountain Mustangs 51-16.
Friday's game was called late in the third quarter by the opposing coach when he forfeited, saying he had too many injured players to continue.
The Rams next home game is next Friday, Sept. 21 at the Sedgewick field against the Buck Mountain Central Mustangs.