*Web Exclusive* Pink Fever rising in Flagstaff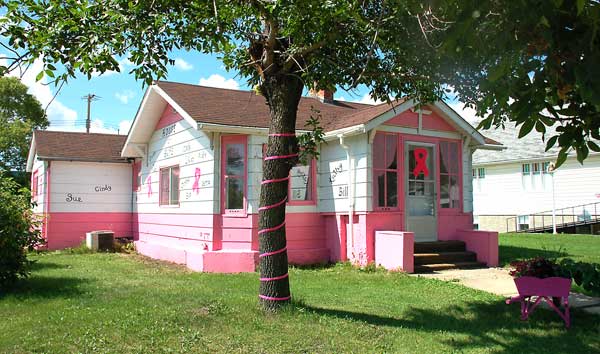 The House of Hope is the project of an informal group of women in Sedgewick, who are Sue Freadrich, Kari Sanders, Denny Bergum, Loni Bergum, Tara Bergum, Debbie Wieschorster, Brenda Watkins, and Gloria Zarski.
They asked the United Church if they could paint the vacant house sitting adjacent to, and owned by, the church.

The idea was to paint the house pink as part of the Wild Pink Yonder Ride's Pinkest Little Town contest, and also to raise money by charging $5 to write someone's name on the house.
The name can be someone who has survived breast cancer, or someone who fought bravely but didn't make it; or even someone who supports the cause and who you think deserves the honour, it can be anyone.
They hung a cross over the doorway, in part to show the United Church's support of the project, and in part to make it non-denominational, and open to anyone. The Bumper-to-Bumper in Sedgewick is accepting the $5 donations, co-owner Brenda Watkins is one of those who helped with the project, too, and all the funds will go to cancer research.
"The House of Hope shows we have a united front against breast cancer," said Sue Freadrich, one of the group who helped paint the house.
Freadrich, along with her neighbours Les and Marg Shawley, and Sylvia Dahl, and Freadrich's mother, Jeanette Harris, have also decorated their homes pink, frankly, whatever will hold still long enough to be painted, they consider fair game.
Freadrich and Harris painted 25 bird houses pink, and sold them for $25 each with the proceeds going to cancer, "and they sold out completely in just a couple of hours," Freadrich said. Then she painted 35 more with donated materials, and mounted them along the route the Ride will take through Sedgewick.
"Many local businesses have donated paint and supplies," she says, "so 100 per cent of the purchases can go to the Ride."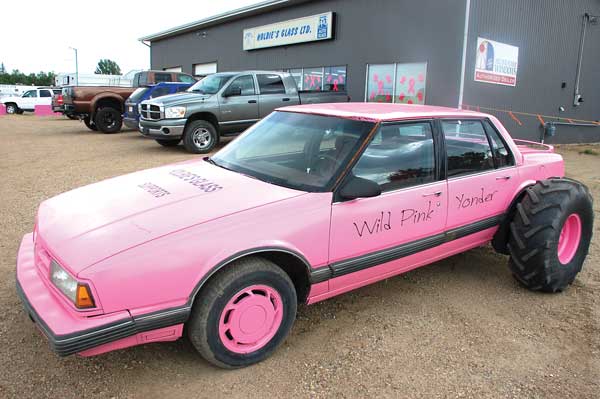 In Killam, where townspeople are also trying to earn the Pinkest Little Town title, Darrin Holben of Holbie's Glass had a similar idea, except his is a little more mobile than a house, he's created quite a unique vehicle in support of the Wild Pink Yonder cause.
Holben, too, is using the eye-catching vehicle to raise funds for the Ride, also charging $5 for people to write their own names, or anyone's, on the car.
He says the car has attracted quite a bit of attention already, he's seen people slow down on the highway as they go by, and some even stop to get a better look.
Another fundraiser happening in Killam is a Wild Pink Yonder-Bra decorating contest.
All entries to the contest, which entails decorating a bra any way you like, will be kept anonymous until the judging, says Katherine Fee, who along with husband Dan came up with the idea.
All entries are $20 each, and she's only accepting one entry per person.
Fee will be putting photos of the entries on a facebook page created especially for the event, and final judging will be done by some very special judges, Fee says she's honoured that some local breast cancer survivors have agreed to help out.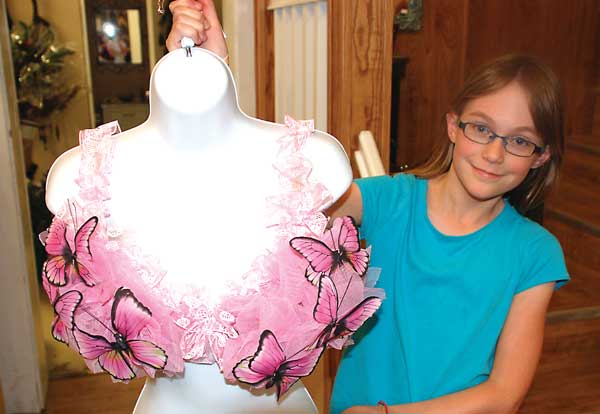 Fee is accepting the entries at her Main Street business in Killam, Budding Ideas, until Friday, Aug. 17, when the contest will close for judging.
She has a sample bra on display at the store, and says she's already got her first entry, with more who have paid but not yet submitted their entries.
And if you stepped into the Wild Rose Co-op in Killam on Friday, you'd see that a pink bomb hit there as well, as shopping carts and corrals sported bright pink ribbons, and staff members all wore their new Wild Pink Yonder t-shirts, in preparation for their fundraising barbeque.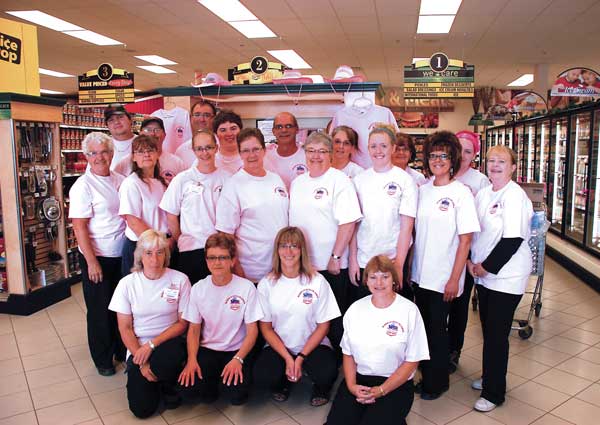 These two towns continue to raise the bar on their support for this extremely worthy cause, and most are very proud of the efforts so far.
The great advantage is that if either town wins, both do, not only for the effort and the time put into a worthy cause, but because each would no doubt attend the other's concert.
It will be interesting, as the days close before the ride gets here, to see what else townspeople have up their sleeves.